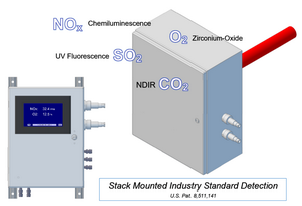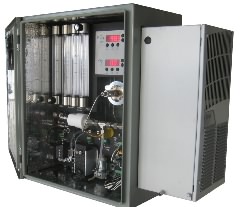 The Brand-Gaus SCR NOx-O2 Monitor is designed specifically for use as a NOx monitor at the inlets and outlets of selective calaltyic reduction systems (SCR's) on coal-fired combustion sources. The close-coupled, flange-mounted analyzer is capable of simultaneously measuring nitric oxide (NOx) and oxygen (O2) concentrations of a coal-fired process in the presence of ammonia. The SCR NOx-O2 Monitor can measure real-time NOx and O2 levels at SCR inlets for feed-forward control and SCR outlets for feedback (trim) control of ammonia injection sytems.

The SCR NOx-O2 Monitor features dramatically simpler operation, lower capital and operating cost, and much higher reliability than conventional CEMS or other technologies.
A chemiluminescence solid-state detector is used for NOx and a zirconium oxide cell is used for O2. The instrument can be mounted directly on a duct port, requiring no additional sample conditioning components. Response times between 6 and 30 seconds are possible allowing for use in SCR control systems that require fast, reliable, real-time NOx-O2 measurements.
Simplified, Real-time Measurement of NOx and O2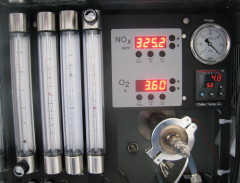 More stringent emissions requirements have increased the need for simple, reliable, and cost effective monitoring solutions. Simplified NOx monitoring is required for both regulatory compliance and for control systems that utilize post-combustion NOx reduction technologies like selective catalytic reduction (SCR) and selective non-catalytic reduction (SNCR). Small gas-fired combustion sources cannot be burdened with complicated and expensive monitoring solutions that have plagued the emissions monitoring industry in the past.
Previous attempts at resolving this problem have been patterned around traditional architectures used for the regulatory Continuous Emissions Monitoring Systems (CEMS), most notably in situ optical instruments, extractive systems, or dilution-extractive systems. These systems have been costly, complicated, and highly maintenance-intensive.
Brand-Gaus now offers a close-coupled NOx-O2 analyzer that entirely removes the need for external sample conditioning. As a result, cost and complexity have been reduced so greatly that the analyzer can provide effective, reliable, multipoint measurement of NOx and O2 in SCR/SNCR applications and for monitoring and control of NOx on small coal- or gas-fired combustion sources.
Close-Coupled, Flange-Mounted Detection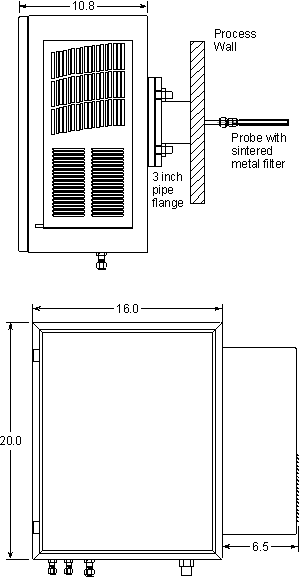 Our solution is a close-coupled analyzer, where the measurement is made in a reaction chamber mounted directly on the end of the probe. A very small amount of sample is dried, then pumped into the reaction chamber where NOx and O2 are measured. The small sample volume and flow rate allow the use of a greatly simplified filter that does not require blow-back or frequent filter cleaning. Small sample size also allows for the use of an ultra-compact chiller, which when combined with the close-coupled design, eliminates the need for instrument shelters or large climate-control air-conditioning systems.
A front-view of the SCR NOx-O2 Monitor is shown in the accompanying pictures. All instrumentation is contained within a 1.5 cubic foot industrial enclosure that mounts directly on a duct port. For an SCR monitoring or control application, many identical, autonomous instruments could be installed across a duct face both before and after the SCR. Each unit will only require 2 SCFM of instrument air, and 2 Amps of 120VAC, and will provide 4-20 mA isolated current output in addition to local displays for each gas. The analyzer uses the same proven technology found in our Model 7705 NOx-O2 Analyzer, with engineering innovations that allow for use in harsh environments and close-coupled operation.
Advantages of Brand-Gaus NOx-O2 Detection Technology
The NOx and O2 detector assemblies have been designed so that they can be directly operated at high temperature to prevent the deposition of sulfuric acid, nitric acid, and ammonia salts.
The instrument makes use of the field-proven chemiluminescence detection method for NOx the method of choice for NOx monitoring due to its inherent detection accuracy, repeatability, and linearity.
The yittria-stabilized zirconium oxide oxygen detector is a modified next-generation automotive sensor that is extraordinarily fast, accurate, stable, and robust. It has been designed for long-life operation in harsh environments, and it greatly outperforms conventional zirconium oxide instruments.
The NOx optical detector is a modified solid-state telecommunications device, with no photomultiplier tubes, high voltage power supplies, lamps, or exposed TE-coolers - some of the most common failure points found in other NOx analyzers.
Zero-drift is virtually nonexistent, minimizing calibration requirements.
Measurement made at atmospheric pressure, removing sensitivity to vacuum and increasing system reliability.
Optimization of the NOx reaction cell removes the need for temperature, flow, and pressure compensation and the need for special signal processing.
The ozone generator has been specially designed to produce an ultra clean discharge that does not contact any o-rings or electrodes, which are the two common failure points of other commercial ozone generators.
The tight integration of both NOx and O2 measurements in the same instrument is considerably simpler and more cost-effective than separate instruments.
Specifications
| | NOx | O2 |
| --- | --- | --- |
| Measurement technology | Chemiluminescence using all solid-state detection | Zirconium oxide cell |
| Measurement range | Full scale continously adjustable from 5 to 1000 PPM | Full scale continuously adjustable from 5 to 25 %O2 |
| Zero noise | less than 0.02 PPM | less than 0.02 %O2 |
| Zero calibration drift | better than ± 0.2 PPM | better than ± 0.2 %O2 |
| Span noise | less than 0.25% of reading | less than 0.02 %O2 |
| Span calibration drift (typical) | better than ± 2% of reading | better than ± 0.2 %O2 |
| Linearity error | less than 2% of full scale | less than 1% full scale |
| Interference (sum of all interferences) | less than 2% of measured value | less than 2% of measured value |
| Response time | T95 less than 30 seconds | T95 less than 30 seconds |